Isaiah happy to return to the air.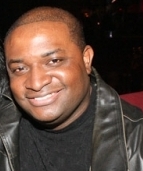 Blog King, Mass Appeal
HOLLYWOOD — He's back. After being blacklisted for more than 12 years, Isaiah Washington is back on the air. The 56-year-old thespian is hosting a new show on Fox Nation's streaming service titled "Kitchen Talk" — a program that commingles scrumptious comestibles with intimate colloquy to a wide gamut of nosy people. In case you didn't know, Washington is catching hell in Hollywood for supporting President Donald Trump's "First Step Act" — a bill concocted to truncate inmates' prison sentences while aiding their reintegration into society. "Food carries culture," Washington explained to Yahoo Entertainment.
"Kitchen Talk is really … my answer to this very sick town wanting to attack me with a false narrative just because I supported the president and the First Step Act."
Washington, if you recall, was terminated from his popular role as Dr. Preston Burke on "Grey's Anatomy" in 2007 after he called co-star T.R. Knight a "faggot" while having contretemps on set with Patrick Dempsey (Dr. Derek Shepherd). Knight played Dr. George O'Malley for 5 seasons.
Washington apologized for using the homophobic slur.
But gays run Hollywood so he garnered a pink slip anyway.
"I've been cast out for 12 years since 2007," he lamented.
However, that was then and this is now.
After more than a decade of kissing ass, Washington is back where he belongs. Now he'll use Kitchen Talk to "show the world and speak about the world … in a healthy way." Hopefully Mo'Nique, 52, will follow suit and pucker up. The Oscar Winner has been ostracized since "Precious" premiered in 2009.
Are you happy for Washington?
Is it time for Mo'Nique to get off her high horse and beseech?
Share your thoughts.