Joe Biden seeks American unity.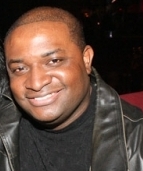 Blog King, Mass Appeal
WILMINGTON — During his address at Thursday night's Democratic National Convention, presidential candidate Joe Biden closed the 4-day virtual event by objurgating Donald Trump's bigotry. He also vowed to help America "overcome this season of darkness" by bridging the nation's racial sunder in ways the president has not. Biden, 77, spoke for approximately 25 minutes. "The current president has cloaked America in darkness for much too long — too much anger, too much fear, too much division," said the former vice president.
"Here and now, I give you my word: If you entrust me with the presidency, I will draw on the best of us, not the worst. I will be an ally of the light, not the darkness."
UFC star Tyron Woodley, who's black, begs to differ. The 38-year-old martial artist said Trump ain't racist. He simply cares about money. "Some black people are going to be upset with me," Woodley told TMZ. "If you have green…, he's gonna f*ck with you. I think it's about green to him."
As anticipated, the crux of this week's convention was diversity.
After all, VP running mate Kamala Harris is the first woman of color to appear on a major party's presidential ticket. Not to mention the undercard of Biden's peroration featured orations from a mélange of public servants; namely Senator Tammy Duckworth of Illinois, an Asian-American military veteran; African American Mayor Keisha Lance Bottoms of Atlanta; and Pete Buttigieg, the first openly gay presidential candidate.
"Donald Trump doesn't deserve to call himself Commander-in-Chief for another four minutes, let alone another four years," said Duckworth, a former helicopter pilot who lost her legs in the Iraq war.
Ouch!
Does Biden have your vote?
Watch the speeches.
Share your thoughts.