Body cam shows Muslim's death.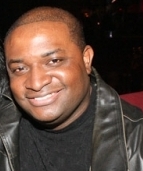 Blog King, Mass Appeal
PHOENIX — Law enforcement officials in Phoenix, Arizona have released body cam footage that shows police officers mocking the Muslim faith of 43-year-old Muhammad Muhaymin Jr. before choking him to death. The asphyxiation transpired in January 2017 after Muhammad tried to enter a public restroom with a service dog. He also had a warrant. Raw footage shows a handful of cops genuflecting on Muhammad's back and scruff as he tried to wrestle himself free.
"Now you're gonna [get arrested] for a felony, dumbass," said the arresting officer.
As the scuffle intensified, Muhammad started experiencing respiratory issues — à la Eric Garner and George Floyd. "I can't breathe. I can't breathe… Please, Allah," he begged as the officer handcuffed him. "Allah? He's not going to help you right now… motherf*cker," the cop retorted.
Seconds later, Muhammad vomited and died.
"I don't feel a pulse," said one of the officers.
"Oh, he's dead," said another.
Medical examiners at the Phoenix Police Department later determined Muhammad's quietus was attributed to several maladies; namely "coronary artery disease, psychiatric disease, acute methamphetamine intoxication, and physical exertion during law enforcement subdual."
In other words… he was high, he had a bad heart, and he was mentally ill.
The officers involved in Muhammad's death ― identified as Oswald Grenier, Jason Hobel, Ronaldo Canilao, David Head, Susan Heimbigner, Kevin McGowan, James Clark, Dennis Leroux, Ryan Nielsen and supervisor Steven Wong ― were not arrested or charged, and they kept their jobs.
Ain't that a bitch?
Police brutality has claimed the lives of many negroes.
Eric Garner died over a cigarette.
George Floyd died over a counterfeit dollar bill.
And Muhammad Muhaymin Jr. died tryin' to take a piss.
A damn shame indeed.
Watch the horrifying videos.
Share your thoughts.