Black Panther deceased at 43.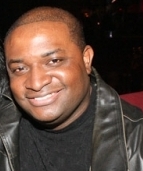 Blog King, Mass Appeal
LOS ANGELES — "Wakanda forever!" Chadwick Boseman, who portrayed King T'Challa in the blockbusting Marvel Comics movie "Black Panther," died on Friday following a 4-year battle with colon cancer. He was 43. Chadwick's family released the following statement: "It is with immeasurable grief that we confirm the tragic passing of Chadwick Boseman. Chadwick was diagnosed with stage III colon cancer in 2016, and battled with it these last 4 years as it progressed to stage IV."
"It was the honor of his career to bring King T'Challa to life in Black Panther," the statement continued. "He died in his home with his wife and family by his side." In addition to bringing the dramatis personae of "Black Panther" to life, Chadwick starred as baseball legend Jackie Robinson in the iconic film "42."
He also played the "King of Soul" James Brown in the 2014 biopic "Get On Up."
Chadwick RIP.
You're gone but not forgotten.
"Wakanda forever!"
Watch all 6 episodes of the "Black Panther" animated series.
Share your thoughts.