Tamar's BF seeks police protection.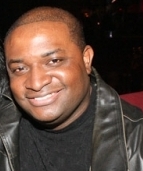 Blog King, Mass Appeal
LOS ANGELES — Tamar Braxton allegedly beat the sh*t out of her Nigerian fiancé, David Adefeso, while he was driving his Rolls-Royce. Now she's required to stay 100 yards away. That's because David filed a restraining order in Los Angeles on Tuesday, claiming the R&B singer punched him in his countenance while they were cruising. Tamar, however, told investigators David threatened to kill her and himself during the quarrel. He reportedly said they're "going to end up in a murder-suicide" if she don't shut the f*ck up!
Of course, there's three sides to the story: Hers, his and the truth. But, the bottom line is they need to effectuate a cessation ASAP and go their separate ways before somebody gets killed. If you recall, a fatality almost transpired in July. That's when David called 911 saying Tamar tried to kill herself.
The reality TV star was found unresponsive in her hotel room at the Ritz-Carlton after ingesting a bottle of prescription drug pills. She was also drunk as a skunk. Tamar, 43, was expedited to the hospital for emergency treatment. Prior to the overdose, Tamar tweeted a suicide missive to her family.
"I am a slave. I do not own my life," Tamar wrote. "My stories. My pictures. My thoughts or beliefs. I've asked my massa to free me. I'm threatened and punished for it. The only way I see out is death. I will choose that before I continue to love like this. Please help me."
At the time, we thought Tamar was referring to her employer. Turns out, David is her massa. A close source confirmed it, saying Tamar has been melancholic ever since they got together; not to mention David is impecunious, domineering and he's always stickin' his nose in her motherf*ckin' business.
Damn, it appears Tamar has gone from one barbaric relationship to another.
Does she have terrible taste in men?
Do you think she's better off solo?
Share your thoughts.