Samuel Jackson hammers Trump.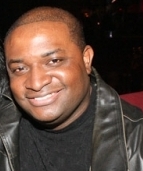 Blog King, Mass Appeal
NEW YORK — Samuel L. Jackson filled in as guest host of "Jimmy Kimmel Live" on Friday (9/11) and he spent the lion's share of his mothaf*ckin' monologue lambasting President Donald Trump's handling of the coronavirus pandemic and "Black Lives Matter" protests. The 71-year-old thespian also said it would be perilous to cast a ballot for Trump in the impending presidential election. "You got to hand it to him. He always knows the wrong thing to say," Jackson told the studio audience.
"I mean, we found out he called U.S. soldiers 'losers' and 'suckers,' then he intentionally played down the coronavirus even though he knew how bad it was. He encouraged his supporters to vote twice, which is a felony, and said protesters are using soup cans as weapons — and that was just this past week."
"Who can still be voting for this guy after all the stuff that has gone down on his watch?" Jackson continued. "The fact of the matter is that Donald Trump is dangerous for our country."
Do you agree with Jackson?
Does Trump deserve another 4 years?
Watch Jackson's monologue.
Share your thoughts.