Joel and Anne welcome baby.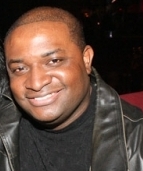 Blog King, Mass Appeal
PHILADELPHIA — "Now, I ain't sayin' she a gold digger…" NBA All-Star Joel Embiid is a new papa! The Cameroonian giant and supermodel fiancée Anne de Paula just welcomed their first crumbsnatcher together and, if everything goes as planned, they'll undergo enough parturition to field a soccer team. The baby's name is Arthur Elijah de Paula Embiid. The lengthy moniker was concocted in remembrance of Joel's younger brother, Arthur, who died in 2014 at the age of 13. The euphoric lovebirds made the announcement Thursday via Instagram and captioned it with a nativity photo of daddy cradling the child.
"We are so blessed and fortunate to welcome our little boy in this family," Joel wrote.
"First of 11 or more? Trying to convince her but I'm not winning so far. I'm just trying to build a soccer team but for real I'm so excited for the future and my life has a new meaning. Kudos to Anne de Paula for being so strong and giving me the Greatest Gift our life can offer #GodisGood."
Joel, a 7-foot center for the Philadelphia 76ers, played collegiately at Kansas University. The gigantic Jayhawk was drafted third overall in the 2014 NBA Draft. His KU teammate, Andrew Wiggins, was the No. 1 overall pick. Joel and Paula hooked up in 2018 and they've been bangin' ever since.
Congrats big fella on your new bundle of joy!
That's one down, ten more to go.
Share your thoughts.