Lizzo performs in Savage lingerie.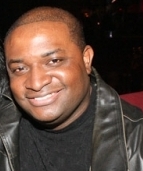 Blog King, Mass Appeal
LOS ANGELES — "Girl, you looks good, won't you back that ass up!" Lizzo set the Internet ablaze the other day when she gave a quarantine concert in her underwear. The corpulent songstress performed in front of a mirror during her virtual appearance in Rihanna's Savage X Fenty fashion show. Instagram Live footage shows Lizzo gyrating to D'Angelo's "Brown Sugar" while modeling blue Savage X Fenty lingerie to emphasize her 50-pound weight loss and plus-size curves. "Just when you thought I couldn't love myself any more. TONIGHT. @savagexfenty," she captioned the gesticulation.
Lizzo, if you recall, had a chinwag with Vogue last month about the commercialization of body positivity and how the movement is being expropriated by popsies who don't need it. "It's commercialized," said the 32-year-old singer who became the "first big black woman" to grace the cover of Vogue.
"Now, you look at the hashtag 'body positive' and you see smaller-framed girls, curvier girls. Lotta white girls. And I feel no ways about that, because inclusivity is what my message is always about."
"Girls with back fat, girls with bellies that hang, girls with thighs that aren't separated, that overlap," Lizzo continued. "Girls with stretch marks. You know, girls who are in the 18-plus club."
Do you agree with Lizzo's stance on body positivity?
Does her taste in undergarments turn you on?
Watch her sexy performance.
Share your thoughts.