Jose Guzman pummels cop.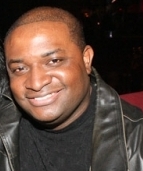 Blog King, Mass Appeal
LOS ANGELES — Law enforcement officials with the Los Angeles Police Department released a graphic video that shows 29-year-old Jose Guzman pummeling police officer Anthony Freeman. The ass-whuppin' transpired on September 26, 2020 inside the Harbor Community Police Station. Body cam footage shows Guzman barging into the lobby where he encountered the desk officer. After exchanging a few words, Guzman thwacked Freeman in his countenance — causing him to fall backwards onto the floor.
Guzman quickly jumped on top of the negro cop, snatched his 9mm Berretta from the holster, then proceeded to pistol-whip Freeman with his own gun. Realizing reinforcements were on the way, Guzman stood up and retreated towards the entrance while pointing the pistol at the corpulent officer.
Seconds later, an on-duty Assistant Watch Commander responded to the lobby to effectuate an arrest. Guzman fired multiple shots at her before fleeing the station in a white truck. Following a high-speed chase, officers pulled Guzman over in the vicinity of 17th and Pacific Avenue.
"Let me see your hands motherf*cker!" the cop screamed. "Get down on the ground!" Guzman was tackled to the pavement shortly thereafter — suffering mild abrasions in the process. Freeman was transported to a local hospital where he received treatment for non-life-threatening injuries.
Are you disappointed in Freeman for getting his ass kicked?
Is it time for him to retire?
Watch the disturbing video.
Share your thoughts.