Deja Stallings seeking justice.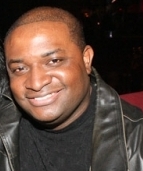 Blog King, Mass Appeal
KANSAS CITY — Law enforcement officials in Kansas City are catching hell after a video went viral that shows a white police officer manhandling a black chick who was nine months gravid at the time. The disturbing ordeal transpired on September 30th during a big altercation at a gas station. The woman, 25-year-old Deja Stallings, gave parturition to a bouncy baby girl (D'Syre) on October 16th. Cell phone footage shows the cop genuflecting on Deja's back as he placed her in handcuffs. She would later end up in intensive care.
"I was out there like everybody else trying to record [on her phone] and the officer pushed me," Deja told Yahoo News. "When he pushed me, I told him, 'Don't push me, because you don't have the right to push me.' He said, 'You effing going to jail.' That's when he threw me down on my stomach and put his knee in my back."
However, the Kansas City Police Department accused Deja of "hindering and interfering" with law enforcement. "Police gave the woman and man several verbal warnings to leave, but they continued to physically interfere by attempting to pull the suspect away from officers," Officer Doaa El-Ashkar wrote.
"One of the assisting officers then attempted to place her under arrest for hindering and interfering. The officer attempted to do this while she was standing, but she continued to physically resist arrest, at which point he placed her on the ground to effect the arrest. Then she was handcuffed, turned to her side and immediately placed in a seated position."
Deja's lawyer, Stacy Shaw, believes the arresting officer and Police Chief Rick Smith should be held accountable. "We want to hold the police officer and KCPD accountable through the court of law for what happened to Deja," she said. "We are pushing for the police revision of their use-of-force policy to include pregnant women … and we are looking to have budget revisions to end this cycle of violence."
Do you agree with the attorney?
Was the arrest handled inappropriately?
Watch the video.
Share your thoughts.