Nuke Bizzle got busted for fraud.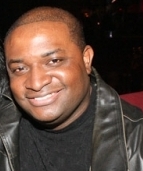 Blog King, Mass Appeal
LOS ANGELES — Rapper Nuke Bizzle (né Fontrell Antonio Baines) had his black ass thrown in jail on Friday after he rapped about fraudulently obtaining more than $1.2 million in unemployment benefits. In other words, he snitched on himself. The 31-year-old artist was arrested in Hollywood Hills after federal agents descried his new music video titled "EDD." In the video, Nuke Bizzle bragged about rippin' off the Employment Development Department by using his "swagger for EDD" to exploit the coronavirus CARES Act for freelance workers. He also claimed he got rich by going "to the bank with a stack of these" while holding up a handful of EDD envelopes. Rapper Fat Wizza chimed in with a verse, saying "you gotta sell cocaine, I just file a claim."
Federal investigators said Nuke Bizzle purloined more than 90 EDD debit cards preloaded with more than $1.2 million in illegal funds. He had them mailed to several different addresses in Beverly Hills and Koreatown. The thievin' bastard and his accomplices then used the cards to expend roughly $700,000.
Nuke Bizzle is charged with access device fraud, aggravated identity theft and interstate transportation of stolen property. If convicted, he's lookin' at a maximum sentence of 22 years in the penitentiary.
Damn.
Do you feel sorry for Nuke Bizzle?
Should he have kept his mouth shut?
Watch the self-incriminating video.
Share your thoughts.