Rob and Tiffany calling it quits.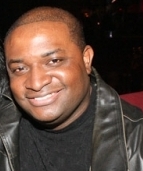 Blog King, Mass Appeal
LOS ANGELES — Dammit coronavirus! Look what you've done! You can stick a fork in Rob Riggle's marriage because it's done. The Saturday Night Live alum and wife Tiffany are calling it quits after 21 years of holy matrimony. The latter filed dissolution documents in Ventura County earlier this week citing irreconcilable differences. They've been separated since May. Rob and Tiffany have two children together. She's seeking joint custody and alimony. Tiffany also asked the judge to treat their individual bank accounts, two mansions, and vodka and whiskey companies as community property.
In other words, she wants half of everything.
Ain't that a bitch?
Rob, a graduate of Kansas University, has starred in several films; most notably "The Hangover" and "Night School." He makes regular appearances on FOX's NFL Sunday pregame show. The 50-year-old comedian is also a diehard fan of both the Kansas City Chiefs and Kansas City Royals.
Do you feel sorry for Rob?
Does Tiffany deserve half?
Share your thoughts.