Jason interviews President Trump.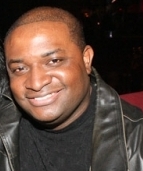 Blog King, Mass Appeal
WASHINGTON — Former Kansas City Star columnist Jason Whitlock paid a visit to the White House on Wednesday to talk negro politics with President Donald Trump. The sedentary chinwag aired on Whitlock's newly launched website Outkick.com. Donning a Stygian suit and a pair of sneakers, Whitlock sat across from the Commander-in-Chief and he wasted no time diving into African American issues. "Antifa, to me, is the modern day KKK," Whitlock said. "They're a terrorist, domestic organization. They're out doing things for the benefit of black people that aren't benefiting black people… Can we get the Democrats to denounce Antifa? Can we get lawmakers to really go after this group? They're tearing this country apart."
The president agreed wholeheartedly. "You're so smart and you're so right," Trump replied. "Antifa is a terrorist organization. When you see these riots with the anarchists, it's radical left, it's Antifa and you can't get [Joe] Biden or any of these Democrats to say anything bad about them. They're hurting the black community… They're hurting the country."
"Nobody has done for the Black community what I have done," Trump continued.
"Prison reform, criminal justice reform."
The president went on to say Democrats have owned the black vote for decades.
But he's starting to recognize a shift towards the right.
"It's a habit. It's almost a habit [for blacks] to vote for a Democrat," Trump said.
"Now you have a lot of [black] people going into the Republican party."
Do you agree with Trump?
Are negroes genetically predisposed to vote Democrat?
Watch the interview.
Share your thoughts.