Hawk Newsome arrested, jailed.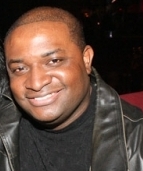 Blog King, Mass Appeal
NEW YORK — Hawk Newsome, co-founder of the New York chapter of "Black Lives Matter," was thrown in the slammer this weekend during an obstreperous protest that saw hundreds of BLM demonstrators going toe-to-toe with Donald Trump supporters in the middle of the street. The political donnybrook transpired in downtown Manhattan. It was also captured on video. Cell phone footage shows a half dozen police officers in riot gear forcing Hawk to the ground despite the fact he wasn't resisting arrest and appears to have his hands up in an acquiescent position.
Once Hawk hit the pavement, officers dogpiled his ass before throwing on a pair of handcuffs. The radical activist was arrested and charged with obstructing governmental administration and disorderly conduct (both misdemeanors). Hawk allegedly got in the face of a bunch of cops and refused to vacate the premises. Police officials also claimed he shoved officers away while yelling "get your hands off me!"
Rumor has it "Black Lives Matter" is tied to voodoo and witchcraft.
The idiom "Say Her Name" is reportedly an incantation to raise the dead.
Do you support the organization?
Was Hawk's arrest justified?
Watch the disturbing video.
Share your thoughts.