Fantasia Barrino 'pregnant' again.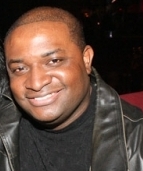 Blog King, Mass Appeal
CHARLOTTE — It took five years of conjugal insemination but it's finally gonna happen. Fantasia Barrino is about to have another baby! The "American Idol" winner and her husband of half a decade — Kendall Taylor — are expecting their first crumbsnatcher together. It'll be Fantasia's third child with a different father. The 36-year-old vocalist shared the maternal news via Instagram Live. "Keep trying and you will conceive," Fantasia said in the video to which Kendall replied, "Only God can do it! I'm having a baby, cuz!"
Sh*t, can't blame Kendall for lauding Fantasia's gestation because he's been shootin' blanks for years. If you recall, the semen-starved lovebirds got hitched in 2015 after only 3 weeks of dating. Fantasia said they rendezvoused at a romantic "rooftop spot" where they chin-wagged for hours.
Not once did Kendall try to get the ass.
"Never did he ever try to come onto me," Fantasia recounted.
"It was just great conversation. I knew he was my dude. He became my boyfriend that night."
During last year's appearance on "The Breakfast Club," Fantasia ruffled some feathers when she said women must "learn how to submit" if they plan on getting married. "Most women are trying to be the leader, that's why you can't find a man," she explained. "[Women] can't be the King in the house. Fall back and be the Queen and let your man lead the way… The King needs his Queen."
Do you agree with Fantasia?
Is it in a woman's best interest to become obsequious?
Watch Fantasia's maternal video and her appearance on "The Breakfast Club."
Share your thoughts.