Ruthless villain murders woman.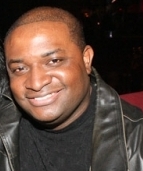 Blog King, Mass Appeal
JERSEY CITY — Thaddeus Williams, 37, had his nefarious ass thrown in jail after he murdered 36-year-old Aieshia McFadden because she wouldn't date him. The sanguinary ordeal transpired around 8:30 p.m. on December 4th outside a liquor store in the vicinity of Martin Luther King Drive and Bidwell Avenue in Jersey City. The aftermath was captured on video. Cell phone footage shows Aieshia's cadaver lying in the street face-first. Thaddeus reportedly asked her out on a date then groped her derrière when she said "no." Aieshia then slapped him silly and he retaliated by shooting her in the face.
She was pronounced dead at Jersey City Medical Center.
"She wasn't protected. Trying to protect herself is what got her killed and that is sad as a Black woman in America," said Pam Johnson of the Jersey City Anti-Violence Community. "So I think we have to do much better." Aieshia, a mother of four, worked as a cafeteria worker at Lincoln High School.
One of her kids witnessed the murder.
"She really, really loved her children. She loved them. That's all she talked about," said Jersey City resident Latresha Thomas. "She was an all-around nice person. She was the life of the party. You'd see her and she'd be yelling. 'Hey girl!' She was just a really sweet person. She's going to be missed by a lot of people because a lot of people loved her."
Thaddeus is facing multiple charges, including first-degree murder and criminal sexual contact.
Does he deserve the death penalty?
Is there anything Aieshia could've done differently?
Watch the disturbing video.
Share your thoughts.