Friday star Deebo found 'deceased.'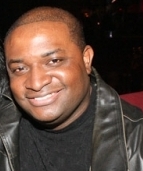 Blog King, Mass Appeal
LOS ANGELES — Tommy "Tiny" Lister has migrated to that big movie studio in the sky. The muscle-bound thespian, best known for his ruffian role as "Deebo" in Ice Cube's "Friday" film franchise, was found dead inside his Los Angeles apartment on Thursday. He was 62. Officials with the L.A. County Sheriff's Department said Tiny died of natural causes. But many are speculating he perished from coronavirus. Concerned friends called authorities around 3 p.m. and asked them to effectuate a welfare check. That's when deputies entered Tiny's Marina Del Rey residence and made the tragic discovery.
The big fella, who was born blind in his right eye, was pronounced dead at the scene.
Ice Cube posted a panegyric in honor of the 6'5″ actor, saying, "RIP Tiny 'Deebo' Lister. America's favorite bully was a born entertainer who would pop into character at the drop of a hat terrifying people on and off camera. Followed by a big smile and laugh. Thank you for being a good dude at heart. I miss you already."
In addition to his Deebo dramatis personae, Tiny played President Lindberg in Luc Besson's Sci-Fi adventure "The Fifth Element." The Compton native also voiced the character Finnick in Byron Howard's animated flick "Zootopia." Other film credits include "No Holds Barred" and "Armed and Dangerous."
Damn, they're droppin' like flies in Hollywood.
"B.A.P.S." star Natalie Desselle-Reid died from colon cancer on Tuesday, the same illness that claimed the life of Chadwick Boseman. She was only 53. Tiny's Friday co-star, John Witherspoon, died from heart disease last year. He was 77. Tiny, a former wrestler, leaves behind a daughter with wife Felicia Forbes.
Word on the street claims he has a son, but it's not confirmed.
Deebo, RIP.
"What you got on my 40 homie?"
You're gone but not forgotten.