Ex-NFL lineman brandished gun.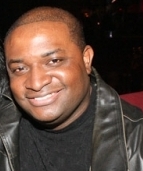 Blog King, Mass Appeal
PHOENIX — Law enforcement officials in Phoenix, Arizona are catching hell after they shot former NFL player Ekom Udofia at least 10 times before siccin' a police dog on his black ass. The sanguinary ordeal transpired around 2:00 a.m. on November 30th. It was also captured on video. Police body cam footage shows officers pointing their guns at Udofia who was visibly high on crack. The 33-year-old malefactor was also armed with a weapon. "Please drop the gun, dude!" one officer yelled as Udofia approached the patrol vehicle.
"Please, please do not make me shoot you!"
As Udofia got closer, the officer told his partner, "Dude, I got to shoot him, bro!" That's when they opened fire, causing the 300-pounder to hit the pavement. Udofia was shot again and masticated by a police dog after he brandished what turned out to be a BB gun. He was pronounced dead moments later.
The dog must've ate his spinach, because he dragged a 300-pound man across the street with ease.
Officials with the Phoenix Police Department said they tried deploying stun bags and pepper balls at Udofia but nothing worked. The Stanford alumnus suffered from mental illness and his rap sheet includes disorderly conduct and indecent exposure. He was on probation at the time of his quietus.
Udofia was acting deranged and jumping on vehicles when officers arrived.
Do you think CTE played a factor in his deportment?
Was this suicide by cop?
Watch graphic body cam footage.
Share your thoughts.