Sandra Lindsay immunized first.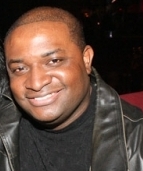 Blog King, Mass Appeal
NEW YORK — Sandra Lindsay, the Black nurse in New York City who became the first person in the United States to receive Pfizer's coronavirus vaccine outside of trial analysis, is doing everything within her power to convince you and I to "believe in science" and get our asses immunized because "healing is coming." Lindsay, director of critical care nursing at Long Island Jewish Medical Center in Queens, was inoculated in her left arm. Then she received a COVID-19 credential to show she's been vaccinated.
Pessimism be damned, the 52-year-old physician is glad to get the process over with.
"I felt a huge sense of relief, hope for everyone around the world that healing is coming, that we took a step in the right direction to finally put an end to this COVID-19 pandemic," she said during Monday's chinwag with MSNBC's Joy Reid. "I know that we still have a long way to go, and so I encourage people to listen to the experts, to continue to social distance, to continue to wear masks, to continue to practice hand hygiene, but it really felt good to get that vaccine in my arm finally after all these months."
Lindsay also reassured Blacks that the panacea is FDA approved and completely safe. Many African Americans are skeptical thanks to the 1930s study at the Tuskegee Institute in which 600 negro men weren't treated for Syphilis. "I would say to them that I understand that, based on the history, they have mistrust in the medical system," Lindsay said. "As a nurse, my practice is guided by the science. I believe in science. What you should not trust is COVID-19 because you don't know how it will affect you."
"So I would say to you that I hope that me taking the vaccine today is an inspiration to you and that you should trust the science," she continued. "What I have seen, I was just tired of seeing. I'm tired of seeing the hurt, the pain, the suffering and the deaths and that was why it was really, really important for me to take the vaccine and to do my part to put an end to this pandemic."
In case you didn't know, two former Pfizer employees co-authored a petition earlier this month calling for the end of clinical trials of the vaccine because they believe it causes infertility in women.
In other words, it's birth control.
Not to mention drugmakers can't be sued amid vaccine complications. So if you die or end up suffering from infertility and/or Bell's Palsy, there's nothing you can do from a litigation standpoint.
Is Lindsay the second coming of Eunice Rivers Laurie?
Was she given a handsome douceur?
Watch the interview.
Share your thoughts.