Tyrese & Sam calling it quits.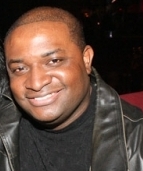 Blog King, Mass Appeal
ATLANTA — Dammit coronavirus! Look what you've done. You can stick a fork in Tyrese's marriage because it's done. The "Black & Blue" actor and his wife Samantha Lee Gibson are callin' it quits after nearly four years of holy matrimony. Tyrese made the announcement Tuesday via Instagram, saying, "Our intention is to remain the best of friends & strong coparents. We feel incredibly blessed to have found each other and deeply grateful for the 4 years we have been married to each other." The 42-year-old singer also referenced the hardships brought on by self-quarantining during the coronavirus pandemic.
"As if 2020 hasn't already been extremely grueling and challenging to us all, we wanted to mutually speak on this now to keep this [negative] energy in 2020 and not take this energy into 2021," he bemoaned.
Tyrese and Samantha got hitched on Valentine's Day in 2017. They share a 2-year-old daughter, Soraya Lee Gibson. Tyrese did, however, leave the door open for reconciliation. "I pray we leave the door open because the God that we serve is a mountains mover and can make a way out of no way," he wrote.
Tyrese was previously married to Norma Gibson. They also have a daughter, 13-year-old Shayla Somer Gibson, for whom he's struggling to pay $13,000 per month in child support which begs the question:
Can he afford another monthly payment?
Tyrese, if you recall, once trashed women who are dependent upon hair weave and cosmetics. He prefers natural beauty. "I just feel the need to send a message to all of these 'type' of ladies, all races of ladies, who just think dudes are just STUPID???" he wrote on social media after marrying Samantha.
"WE KNOW the difference in real hair and fake clip-ons, we know eyelash extensions… you guys are really starting to go TOO FAR with manufactured beauty — fake lips, skinny nose, barely can even breathe through your own nostrils. I'm not trying to be mean. I'm just sending a message that US REAL MEN SEE THE BULLSH*T and IF He decide to rock with you it's just cause they wanna get one off. No one will EVER take you serious… [because] you look like a manufactured clown."
Ouch!
Does Tyrese have women issues?
Is he better off single?
Share your thoughts.