Michael and Lori Instagram official.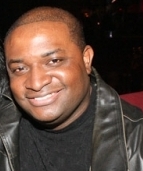 Blog King, Mass Appeal
HOLLYWOOD — In case you didn't know, Michael B. Jordan and Lori Harvey are knockin' boots and they made their copulation official on Sunday with an Instagram collage. The "Creed" protagonist and Steve Harvey's adopted daughter posted a lovey-dovey photo gallery of themselves canoodling. One of the polaroids shows Michael osculating the 24-year-old popsy on the cheek and the image was appropriately captioned with a heart. Another pic shows 'em ogling each other within close proximity.
If you recall, relationship scuttlebutt ran rampant in November when TMZ captured the lovebirds disembarking a plane in Lori's hometown of Atlanta ahead of Thanksgiving. They've made several public appearances since then, including New Year's Eve, so the Instagram proclamation is hardly a surprise.
However, many fans are skeptical of their amalgamation because Michael normally dates White or Latina popsies — much to the chagrin of African American women. Whether it's a publicity stunt or not, the "Black Panther" star is absolutely on fire right now! In addition to celebrating his newfound vulva fount, Michael was recently crowned People Magazine's "Sexiest Man Alive" for 2020. Super cool!
Are you happy for the twosome?
Should Michael put a ring on it?
Share your thoughts.