Boyfriend killed twerking lover.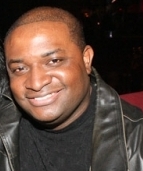 Blog King, Mass Appeal
CAMEROON — Law enforcement officials in Central Africa are investigating after a jealous boyfriend murdered his girlfriend for twerking on another man. The sanguinary ordeal transpired a couple of months ago in the African nation of Cameroon. It was also captured on video. Cell phone footage shows the prepossessing popsy gyrating on the countenance of a dude who wasn't her lover. The video then skips to a different clip and it shows the braided damsel lying face-first in a pool of her own blood.
The boyfriend shot her in the head execution-style.
To add insult to murder, the cowardly bastard grabbed the woman's head and started talking sh*t while recording her cadaver with his cell phone. His accomplice(s) can be heard gloating in the background. Family members of the victim are urging authorities to get off their asses and bring the killer to justice.
Watch the disturbing video.
Share your thoughts.