Jacob Blake gave interview to GMA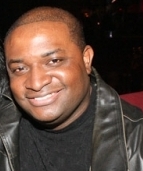 Blog King, Mass Appeal
NEW YORK — While sedentary in a wheelchair, Jacob Blake appeared on "Good Morning America" that aired Thursday where he gave his first interview since he was shot and partially paralyzed by a white cop back in August. If you recall, Kenosha police officer Rusten Sheskey shot Jacob seven times in the back after he opened the driver's door of his SUV. Kenosha County District Attorney Michael Graveley recently decided Sheskey won't face charges, saying he fired in self-defense. Jacob, a 29-year-old black man, said he thought about George Floyd prior to the shooting. He spoke with GMA's Michael Strahan.
"I resisted to getting beat on," Jacob explained. "What I mean by that is not falling, not letting them put their [knee] on my neck. That's all I was thinking." Jacob's two children, who were in the backseat, witnessed the shooting. "I said 'Daddy loves you no matter what,'" he recounted.
"I thought it was going to be the last thing I said to them. Thank God it wasn't."
"I didn't want to be the next George Floyd. I didn't want to die," he added. 
Law enforcement officials believe Jacob was armed with a knife.
Watch the interview and graphic footage of the shooting.
Share your thoughts.