A black officer confronted mob.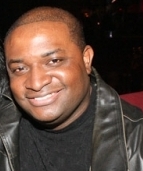 Blog King, Mass Appeal
WASHINGTON — Police officer Eugene Goodman has received several pats on the back in conjunction with a distinguished American guerdon after he took on a rabble of predominant White rioters at the United States Capitol on January 6th. Goodman, who's African American, confronted the bloodthirsty mobsters in the marble halls of the Capitol building after they barged in wielding Confederate flags, weapons and firearms. Given his ethnicity, Goodman showed some big cojones.
They could've lynched his black ass.
As expected, the entire ordeal was captured on video. Raw footage shows Goodman holding back dozens of rioters as he retreated up a flight of stairs to lure them away from the Senate chambers where panicky lawmakers took shelter. Police officials said Goodman's exertion likely preempted bloodshed.
Now he's being hailed a hero. On Thursday, a bipartisan group of legislators revealed plans to give Goodman a Congressional Gold Medal — arguably the most prestigious award a civilian can garner in the United States. A total of five people died during the insurrection, including a police officer.
Had it not been for the heroics of Goodman, there would've been more casualties.
Watch disturbing footage of the raid.
Share your thoughts.