Salt-N-Pepa is dramatic & sad.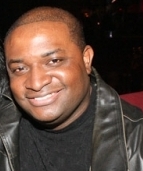 Blog King, Mass Appeal
NEW YORK — "Push it real good!" Here's all you need to know about Lifetime's "Salt-N-Pepa" biopic: Cheryl "Salt" James and Sandra "Pepa" Denton achieved hip-hop stardom while studying at Queensborough Community College and working at Sears as telemarketers alongside "House Party" stars Kid 'n Play and comedian Martin Lawrence. Neither Salt or Pepa aspired to become rappers. They were cajoled by Salt's boyfriend — Hurby "Luv Bug" Azor — who went on to become the group's producer. "The truth is the truth," Salt, 54, told the New York Times.
"[Hurby] started out being my boyfriend. Being an artist was something that he embodied and transferred over to us. … I didn't know how to sing. I didn't play an instrument. When hip-hop came along, it was an opportunity to realize something that I was passionate about — and that was through Hurby."
Pepa, 54, echoed a similar sentiment. "When Hurby felt that I was the one that will be Pepa, I was thrown in the studio," she recounted. "Hurby had his vision. He wanted it said, done — this kind of way and no other way. I had a difficult time in the beginning, jumping on the beat. Finally, I got it."
The occupational adage "don't mix business with pleasure" reared its ugly head throughout the film. Hurby cheated on Salt multiple times and he treated Pepa like a red-headed stepchild. The ladies were granted contractual manumission when a judge ruled Hurby no longer had proprietorship of the group.
Contrary to public opinion, DJ Spinderella (né Deidra Roper) didn't belong. The 49-year-old disc jockey was a mooching landfill of time and money. Spinderella added nothing in terms of pecuniary value which is ironic because she sued Salt-N-Pepa in July 2019 — claiming she was owed unpaid royalties.
The trio ended up settling out of court but that didn't deter Spinderella from lambasting the movie, saying she was disappointed to learn "a decision was made to move forward with a Lifetime biopic that wrongfully excluded me from every aspect of development and production all the while using my image throughout, given that I played an integral role in the group's story and success."
Salt, who suffered from bulimia, and Pepa both fostered shoddy taste in men and their mare's nest was exacerbated by ill-advised deeds of gestation. The latter encountered domestic abuse under the hardcore despotism of her ex-husband, "Naughty By Nature" rapper Treach. Their relationship became so tempestuous, Pepa tried to lacerate her own wrist. Barbaric acts, however, were purposely omitted to safeguard Treach's image. Word on the street claims he beat her ass every time the sun came up.
"Nothing was off-limits," Pepa explained. "In the movie, I didn't just want to focus on the negative things between us. I wanted to be fair to [Treach] and show that despite the bad, he was a good guy too."
Lastly, Salt-N-Pepa's 1993 hit single "None of Your Business" was deemed temerarious by critics who felt the lyrics disseminated an insouciant message to young girls who idolized the group.
Lifetime's "Salt-N-Pepa" is a 3-hour biopic produced by Queen Latifah and directed by Mario Van Peebles.
G.G. Townson plays Salt and Laila Odom portrays Pepa.
Blog King's Rating: 3 out of 5 popcorn bags