Al Sharpton is gettin' a divorce.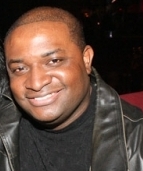 Blog King, Mass Appeal
NEW YORK — You can stick a fork in Al Sharpton's marriage because it's done. The 66-year-old pastor and his estranged wife, Kathy Jordan, are calling it quits after 41 years of holy matrimony. But, it should be noted, they've been sundered since 2004. Al filed dissolution documents in Manhattan Supreme Court on Thursday amid assertions of irreconcilable differences. The quondam lovebirds hooked up in the '70s when Al was on tour with James Brown. Kathy was a backup singer for the "King of Soul."
Al was James' manager.
After years of copulation, the couple got hitched in 1980. Al and Kathy were legally separated 24 years later. They have two adult daughters (Dominique and Ashley) so child support won't be an issue. Alimony, however, could come into play. Even though he wasn't bangin' his wife, Al still managed to keep his phallus wet. The PoliticsNation host has been knockin' boots with Aisha McShaw since 2013.
Aisha, 42, is 24 years younger than Al.
But there's no shame in their game.
They're often seen canoodling at Al's East 65th Street condo.
Lord have mercy.
Are you surprised it took Al this long to get a divorce?
Is Aisha after his money?
Share your thoughts.