Kenan Thompson discusses series.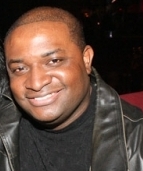 Blog King, Mass Appeal
NEW YORK — Kenan Thompson spewed a profanity-laced tirade while becoming the latest sacrificial lamb to appear on the popular YouTube series "Hot Ones" to answer questions for 20 minutes in conjunction with masticating a plate of spicy hot wings. While sedentary, the 42-year-old TV personality joined "First We Feast" host Sean Evans virtually to confabulate on everything from his new self-titled NBC comedy series to being the longest tenured cast member in "Saturday Night Live" history.
Kenan also delivered his best Steve Harvey mimicry.
However, all hell broke loose when the "Good Burger" thespian ingested a wing drenched in Kansas City's "Da'Bomb Beyond Insanity Hot Sauce" which contains a hellish 135,600 Scoville units. "This is f*cking hot, yo," Kenan wailed as the studio audience chortled at his expense. "That sh*t was hot, bro."
"Now I know why they call it Da'Bomb," he added.  
Kenan also devoured a wing saturated in Tyrann Mathieu's "Honey Badger" sauce. Mathieu is an All-Pro safety for the Kansas City Chiefs. "Alright Honey Badger, don't do me dirty now," he cracked.
"We already suffered through the Super Bowl with you."
Will Kenan survive the wings of death or punk out like the rest?
Watch the mouthwatering episode.
Share your thoughts.