Behind Her Eyes twisted & weird.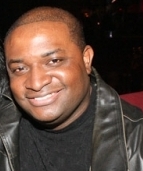 Blog King, Mass Appeal
LONDON — Spoiler Alert: If you haven't descried all 6 episodes of the twisted Netflix series "Behind Her Eyes," stop reading now. Directed by Erik Richter Strand and written by Angela LaManna, the extramarital British drama goes behind the eyes of negro single mom Louise (Simona Brown) who enjoys daily copulation with her White married boss — David (Tom Bateman) — but they end up getting busted by his Caucasian wife Adele (Eve Hewson); thanks to a nexus of paranormal, out-of-body experiences.
Call it serendipity, but David — a psychiatrist — and Louise accidentally hook up in a bar then spend their evenings f*cking like rabbits while Adele, a heroin addict, is "Home Alone" like Macaulay Culkin.
Realizing her husband is adulterous, Adele befriends Louise then teaches her how to takeover her nightmares through a Tinker Bell embodiment of astral projection. Spasmodic flashbacks to Adele's past shows she once resided in a psychiatric facility where she became the BFF of Robert — a junkie.
But, turns out, Robert is a nefarious ominisexual man who wants David for himself.
Therefore, Robert uses astral projection to confiscate Adele's soul. Then the gay bastard does the same to Louise so that he and David can live happily ever after. Biological motherhood be damned, Louise's son Adam (Tyler Howitt) is now the ward of a cheating head doctor and a pansexual meshuggana.
Poor kid.
In summary, "Behind Her Eyes" starts off pragmatic then gets wildly fantastical towards the end.
It's a bit recherché, but the cessation will blow your mind.
Blog King's Rating: 4 out of 5 popcorn bags