Anthony Mackie discusses MCU.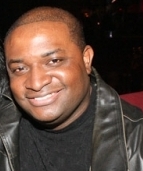 Blog King, Mass Appeal
LOS ANGELES — Anthony Mackie was relegated to quoting William Shakespeare while becoming the latest sacrificial lamb to appear on the popular YouTube series "Hot Ones" to answer questions for 20 minutes in conjunction with masticating a plate of spicy hot wings. While sedentary, the 42-year-old thespian joined "First We Feast" host Sean Evans virtually to confabulate on everything from his latest film "Outside the Wire" to his new Disney+ series "The Falcon and the Winter Soldier." Anthony also dropped knowledge on the quality of authentic New Orleans sustenance.
However, all hell broke loose when the "Avengers" star ingested a wing drenched in Kansas City's "Da'Bomb Beyond Insanity Hot Sauce" which contains a hellish 135,600 Scoville units. "Oh my God. Give me a second," Anthony wailed before temporarily leaving the set to cool off his mouth. "Ok, I'm back."
Anthony, a native of New Orleans, also devoured a wing saturated in Tyrann Mathieu's "Honey Badger" sauce. Mathieu is an All-Pro defensive back for the Kansas City Chiefs. "So this is the Honey Badger? New Orleans finest right there," he boasted. "Doesn't help that it has killer on it."
Will Anthony survive the wings of death or punk out like the rest?
Watch the mouthwatering episode.
Share your thoughts.