Gary Owen's wife seeking a divorce.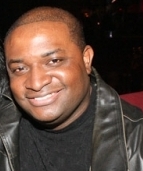 Blog King, Mass Appeal
LOS ANGELES — You can stick a fork in Gary Owen's marriage because it's done. The comedian's black wife, Kenya Duke, is leavin' his Caucasian ass after 18 years of holy matrimony. Kenya filed dissolution documents Friday in Los Angeles County Superior Court on the grounds of irreconcilable differences. Rumor has it she's lookin' to give black men a chance. Besides, two decades is a long f*ckin' time. They're probably ready for new stints of copulation. Gary, 46, and Kenya got hitched in 2003.
The quondam lovebirds have two sons (Emilio and Austin) and a daughter (Kennedy) but they're all grown so child support won't be necessary. But there's a chance Gary will have to pay alimony.
The stand-up comic should be able to afford spousal support because he's starred in a handful of decent films; most notably "Think Like a Man," "Ride Along" and "Daddy Day Care." Actress Stacey Dash recently announced she's no longer interested in dating White men after a quartet of failed marriages.
Kanye West and Kim Kardashian have also called it quits.
Has the coronavirus pandemic taken its toll on interracial relationships?
Are you okay with miscegenation?
Share your thoughts.