Gorilla Glue Girl expecting baby.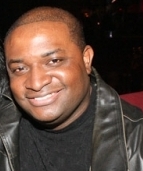 Blog King, Mass Appeal
CHALMETTE, La. — Tessica Brown, aka "The Gorilla Glue Girl," is making headlines again. This time she's gravid with her fiancé's neonate and she has a quartet of pregnancy tests to corroborate it. Yessir, the 40-year-old broad and Dewitt Madison (aka Captain Save A Ho) are expecting their first crumb snatcher together after one year of copulation. Tessica's manager, Gina Rodriguez, confirmed the news. And get this: the ghetto lovebirds are commingling their family à la "The Brady Bunch."
Tessica has five kids from previous relationships and Dewitt has four, good for a summation of ten children à la Eddie Murphy. Tessica posted positive results of four pregnancy tests online. Hopefully the newborn comes out more percipient than Tessica because she's dumber than a box of rocks.
If you recall, last month the imbecilic mom ran out of hairspray and — instead of utilizing common sense and purchasing more — Tessica applied Gorilla Spray Adhesive as a substitute. Lucky for her, she had surgery to remove the glue or she would've been stuck with the same coiffure permanently.
Now let's pray she doesn't put Gorilla Glue in the baby's Similac.
The good news is Dewitt is far from being a deadbeat.
The simp is the proprietor of a lawn care and floor cleaning business.
Tessica runs a daycare center.
Are you happy for them?
Should Tessica be allowed to have more children?
Share your thoughts.