Dr. Matt Hepburn reveals microchip.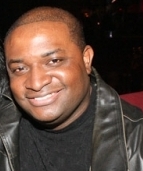 Blog King, Mass Appeal
WASHINGTON — Bill Gates and Co. are at it again. Welp, got some good news and bad news. The good news is the coronavirus vaccine is more than likely NOT the "Mark of the Beast (666)" as biblically described in the Book of Revelation. The bad news is the government's COVID-19 microchip might be. That's because military scientists at the Pentagon have concocted a biosensor that will detect coronavirus once it's implanted underneath our skin. The diagnostic microchip was revealed by immunologist Dr. Matt Hepburn, M.D. — a retired Army Colonel — during a recent appearance on "60 Minutes."
He compared the sensor to a car's "Check Engine" light.
"We challenge the research community to come up with solutions that may sound like science fiction," Hepburn told CBS correspondent Bill Whitaker. "It's a sensor. That tiny green thing in there, you put it underneath your skin and what that tells you is that there are chemical reactions going on inside the body and that signal means you are going to have symptoms tomorrow."
Hepburn, by the way, works for the Defense Advanced Research Projects Agency (DARPA).
Microsoft honcho Bill Gates is one of the organization's biggest donors.
The microchip, enveloped in a tissue-like gel, will periodically examine our blood for the existence of coronavirus. Once the disease is discovered, the sensor will issue an emergency alert to get a blood test that can be self-administered. If the results come back positive, it means you're infected.
Keep in mind, our immune system automatically tells us when we're sick.
So why the f*ck do we need an implant?
Rumor has it the microchip will be embedded into the hand or forehead.
Sound familiar?
Now the million dollar question: Will you get the implant?
Is this the "Mark of the Beast?"
If so, is the vaccine a precursor?
Watch the videos.
Share your thoughts.