Hotel clerk has crazy meltdown.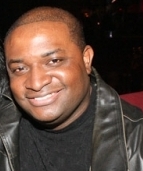 Blog King, Mass Appeal
ATLANTA — The Internet was set ablaze Monday morning when a video went viral that shows a White hotel clerk at Holiday Inn Express having a nervous breakdown towards a dissatisfied Black customer. Cell phone footage shows the African American guest berating the employee for screwing up his reservation. "So you want to get mad and hit the computer because you made a mistake, 'cause your company made a mistake?" the customer yelled. "You want to take it out on me? So why did you get mad and hit the computer? Why did you get mad and hit the computer? I'm sure you're on camera."
The clerk then stood up and started thwacking himself in the countenance before headbutting the computer. He could be heard crying as he scurried towards the manager's office. "So this is the type of people they have working here?" the guest said. "Wow! You got to be kidding me." After realizing the incident was captured on video, the employee said, "You ruined my day. You ruined my whole life."
The worker also claimed somebody called him a f*ggot which instigated the paroxysm.
Viewers were quick to blame racism for the tantrum. But, turns out, the clerk suffers from a bipolar disorder with schizophrenic tendencies. "White people just need to do a better job at raising their offspring," a Twitter user wrote. "They are sending these little devils out into our world terrorizing colored people and calling it a mental health issue."
Watch the disturbing video.
Share your thoughts.