Eddie Griffin rips COVID vaccine.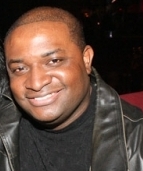 Blog King, Mass Appeal
LOS ANGELES — Kansas City native Eddie Griffin didn't mince words when proffering his two cents on the mysterious coronavirus pandemic. While popping off a diatribe on his YouTube channel, the 52-year-old comedian said billions of "crash test dummies" were duped into getting the COVID-19 vaccine by Microsoft honcho Bill Gates, 65, and renowned immunologist Dr. Anthony Fauci, 80. "The panic about it is dumb," Eddie fulminated, referring to the outbreak. "Bill Gates, you know, thinks it's smart [to get the vaccine] so does Dr. [Anthony] Fauci. So that means they're in on the money end of it. Dr. Fauci owns the World Health Organization. Oh, is that not Bill Gates? CDC? Bill Gates got his hand in that too.
"Man, f*ck that little four-eyed bastard."
"How did they test over a billion people in India?" Eddie continued. "How did the [United States] fabricate… um, I mean get these numbers? So hell naw! I don't believe them numbers."
When told millions of Americans have gotten the jab, Eddie replied: "Of course America is the most vaccinated, these mothaf*ckas are easy to brainwash. All they gotta do is stick it on CNN, MSNBC and Fox 24/7, 'Take the COVID shot, take the COVID shot, take the COVID shot.' Well guess what?
"I ain't taking the COVID shot. F*ck you!"
Eddie also lambasted the pharmaceutical companies for distributing an untested panacea.
Johnson & Johnson's vaccine was recently recalled for causing blood clots.
Side effects also include infertility, shrinking dicks and herpes.
"If you [want to] continue to be a crash test dummy, go ahead," he cracked.
In case you didn't know, Mr. Gates has a patent (060606) on a cryptocurrency system that's allegedly designed to transform vaccinated humans into walking credit cards he calls "Miners." That's not a misprint. The aforementioned patent number contains 666 — aka the "Mark of the Beast."
Eddie is the first celebrity to publicly censure the vaccine.
Watch his commentary.
Share your thoughts.