Gary Owen's ex seeking alimony.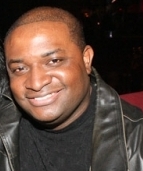 Blog King, Mass Appeal
LOS ANGELES — Kenya Duke, Gary Owen's estranged Black wife, not only wants a divorce. She's seeking $44,000 a month in alimony. Yikes! Kenya, who filed dissolution indentures in March, told the judge Gary quit supporting her and their 3 adult children. The 46-year-old comedian used to make monthly deposits in the amount of $44,000. But, for whatever reason, Gary stopped. He's also eschewing Kenya's phone calls and text messages. "While I was hoping to come to an amicable agreement with my husband… he has unfortunately left me with no choice but to file this RFO for Support," Kenya wrote in recently filed court docs. "Gary and I have been married for over seventeen years. Twenty-three years ago, I left my promising career as an account manager to solely support Gary and his career."
"I am requesting that Gary be ordered to continue making the monthly deposits of $44,000," Kenya continued. "As that has been our status quo for approximately four years' as well as a lump sum payment of $88,000 for the last two months he has failed to provide me with funds."
Kenya told the court Gary earns between $200,000 and $400,000 in monthly remuneration, even during the coronavirus pandemic. The 47-year-old housewife claims she's so destitute, she had to swallow her pride and borrow $20,000 from a family friend to pay off her American Express credit card bill.
"Gary has been the sole provider for the last twenty-three plus years and continues to make a substantial amount of money (even during Covid)," Kenya wrote. "There is no reason why he should not continue to provide support as he has throughout our marriage."
Gary and Kenya got hitched in 2003.
There's no prenuptial agreement in place.
Rumor has it Claudia Jordan is Gary's paramour.
Should Kenya get $44,000 per month?
Is it time for her to get a job?
Share your thoughts.