Blair Underwood getting a divorce.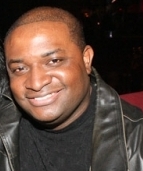 Blog King, Mass Appeal
HOLLYWOOD — You can stick a fork in Blair Underwood's marriage because it's done. The 56-year-old thespian and his wife, Desiree DaCosta, are calling it quits after 27 years of holy matrimony. The quondam lovebirds share 3 children — sons Paris, 24, and Blake, 19, and daughter Brielle, 22. Blair and Desiree disseminated a joint statement Sunday via Instagram. "After a tremendous amount of thought, prayer & work on ourselves individually & collectively, we have come to the conclusion to end our marriage that began 27 years ago," they wrote.
"It has truly been a beautiful journey," the exes continued. "Our proudest achievements are our three incredible children. Three souls to which God entrusted us. We continue to be awed & humbled by the blessings of parenting. We have always put their best interests first & will continue to do so. We will continue to be the best of friends and co-parents and have the utmost respect for one another as we embark upon this new chapter of our lives, separately."
Blair and Desiree, 52, didn't specify what went wrong. But, after nearly three decades of copulation, they're probably ready for greener grass. During a 2008 chinwag with Oprah.com, Blair appeared to be pussy-whipped and in love. "I wanted to be her rock, her protector," the L.A. Law actor said of Desiree.
"If she had a problem, I wanted to solve it. I thought that's what was expected of me."
Rumor has it there's no prenuptial agreement in place.
So Blair could lose half his sh*t.
The coronavirus pandemic has taken its toll on marriages nationwide.
Do you support their decision to split?
Is 27 years worth fighting for?
Share your thoughts.