Kel Mitchell is dodging his ex.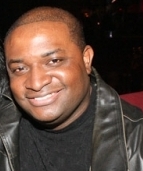 Blog King, Mass Appeal
LOS ANGELES — Kel Mitchell may want to pursue a fast food métier at "Good Burger" after all. Because it sounds like he could really use the money. Tyisha Hampton, Kel's ex-wife, put the former Nickelodeon star on blast in a recently released TikTok video — claiming he owes her roughly $1.2 million in alimony and child support. She also accused Kel, 42, of committing "financial abuse" and domestic battery. In the video, Tyisha publicized a series of deadbeat messages to the sound of explicit rap music.
"Financial Abuse is the number one reason for homelessness," she posted.
"Did you know family court obligations Never GO AWAY!!!"
This ain't the first time Tyisha aired Kel's dirty laundry. Back in March, she disseminated a garrulous missive on Instagram. "I'm no longer going to be a victim," she wrote. "I'm collecting everything I'm owed ! If you are a fan of his, let him know #payyourex ! You can't be a man of God and not take care of your past responsibilities! You cannot continue being a hypocrite!"
"Part 2 will explain how I went to jail for his IRS TAX Debt!" Tyisha continued. "Yep, I'm spilling it all, until I get my money 💰 !!!! #payyourexkel #deadbeatdad #deadbeatcelebrity like share ! Let's let him know you can't do this to your kids and your ex !!! Make him Accountable!!! #payyourexkel #paytourexkelmitchell #deadbeatdadkel #deadbeatdadkelmitchell #kelmitchellyouowe #kelyouowe." 
Kel, who's married to Asia Lee, is a pastor at the Spirit Food Christian Center in Los Angeles.
Destitution once drove him to the brink of suicide.
Is Tyisha justified in calling him out?
Should she stay off social media and take his ass to court?
Watch Tyisha's video and her interview on thePLAINESTjane.
Share your thoughts.