Dunkin' Donuts manager killed.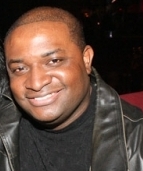 Blog King, Mass Appeal
PHILADELPHIA — Serial killer Keith Gibson was thrown in the slammer after he shot and killed a Dunkin' Donuts manager during an armed robbery early Saturday morning. The 39-year-old malefactor is also a suspect in two other murders. The Dunkin' Donuts ordeal transpired around 5:30 a.m. in the West Kensington neighborhood of North Philly. It was also captured on video. Surveillance footage shows Keith sneak up on 41-year-old manager Christine Lugo, a mother of two, as she's about to open the store.
He then forced her to the back of the venue where she reveals the safe.
After Christine cooperated and handed him the cash, Keith shot her in the head then took off like a little bitch. Poor Christine was pronounced dead at the scene. "She was an angel, a mother to all of us," said co-worker Larry Evans. "No matter who you are, she'd give you the shirt off her back." 
Gilberto Melendez, a former employee, echoed a similar sentiment: "She was a special person," he bemoaned. "It's crazy that somebody can just come and take somebody's life like it's nothing." 
Keith was arrested in Wilmington, Delaware and he's charged with multiple felonies.
Officers said he was wearing a bulletproof vest and had drugs and ammunition on his person.
Watch the disturbing video.
Share your thoughts.