The Giant drawin' mixed reactions.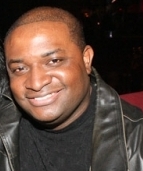 Blog King, Mass Appeal
IRELAND — Can you envision a 100-foot Beyoncé performing in the Power & Light District? What about Jennifer Lopez, John Lennon, Bruno Mars or a gigantic Cardi B shaking her ass near Arrowhead Stadium? Well, it could happen. That's because European entrepreneur Paddy Dunning and his company, Enterprise Ireland, have plans to bring the world's tallest moving statue to 21 U.S. cities this year. The effigy is called "The Giant" and it's a programmable, mobile visitor attraction that's 10-stories tall and covered with millions of LED pixels that allow it to transform into any person — including you.
The colossal structure can move its arms and head in multiple directions, it can transmogrify once an hour and, because it offers dining and shopping, it's "fun for the entire family." The Giant ain't cheap. Each statue costs between $18 to $24 million, and it takes at least 18 months to build.
The Giant will, however, generate roughly $14 million in annual revenue for host cities.
"The Giant will be one of the world's most ambitious cultural and commercial projects bringing together art, amusement and wonder to create a contemporary and highly profitable business," said Dunning in a press release. "We envision 'The Giant' as an adjunct to new urban redevelopment projects, stadiums, arenas, shopping centers, museums and other locations; it's going to be an awe-inspiring addition to the cities where we locate it."
Many Christians have juxtaposed 'The Giant' against the emergence of the beast as biblically described in the Book of Revelation 13:15. Would you like the see 'The Giant' in your city? Does it freak you out?
For more information, visit TheGiantCompany.ie.
Watch shocking video footage.
Share your thoughts.