Derricos have children galore.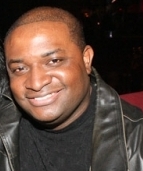 Blog King, Mass Appeal
LAS VEGAS — Deon Derrico, 49, and his horny ass wife Karen, 40, have fourteen children plus a bun in the oven. That's not a misprint. Karen is gravid and expecting Baby No. 15 or 16 or 17. But grandma is pissed because she believes that's too many kids. Deon and Karen, stars of TLC's new reality television series "Doubling Down with the Derricos," have quintuplets, triplets and two sets of twins. Not to mention Karen suffered two miscarriages and lost another baby during accouchement.
So the fecund lovebirds should have more than the 14 they got.
"I don't need this," grandma told Deon when he revealed the pregnancy.
"Is that cute to you, for real? When is the line drawn?"
Granny has a point. Here's the names and ages of Karen's ravenous crumb snatchers: Darrian (16), Derrick (11); twins Dallas (10) and Denver (10); quintuplets Deniko (8), Dariz (8), Deonee (8), Daician (8) and Daiten (8); twins Diez (3) and Dior (3); and triplets Dawsyn (2), De'Aren (2) and Dyver (2).
All of their names start with a "D."
Sh*t, it appears the only thang open late at night are Karen's legs.
The Derricos have a residence in Las Vegas that's comprised of 2,400 square feet. To logistically accommodate the children, they converted the theater room into a nursery. The dwelling is also satiated with bunk beds. Most whippersnappers have chores and the eldest kids help raise the younger ones.
Grandma helps out too.
Octomom (né Nadya Suleman) has 14 children.
Barring a miscarriage, Karen will break the tie in a few months.
Deon said the bible told him to be fruitful and multiply.
"Doubling Down with the Derricos" airs Tuesdays at 9 PM CST on TLC.
Do they have too many damn kids?
Is it time for Karen to seek tubal ligation?
Should Deon pursue a vasectomy?
Watch the pregnancy announcement.
Share your thoughts.