Don and Bridgid cement nuptials.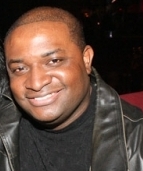 Blog King, Mass Appeal
SANTA MONICA — Sorry ladies. Don Cheadle is officially off the market. That's because the Kansas City native said "I do" to Bridgid Coulter — his baby mama of 28 years. The Hollywood lovebirds got hitched earlier this year during a sub rosa ceremony. They wanted an exorbitant wedding. But the coronavirus pandemic said otherwise. Don, 56, shared the connubial news during Wednesday's appearance on "The Ellen DeGeneres Show" with guest host Wanda Sykes. Like Ellen, Wanda is a lesbian. The 57-year-old comedienne already knew the "Avengers" star and Bridgid tied the knot. Don sent her a text message.
"You texted me at the top of the year, I guess, and you told me that you just got married. And I was like, 'Oh damn, the pandemic got to Don and Bridgid,'" Wanda recounted. "I was like, 'What the hell happened, man?' I think I just text something back, like, 'Hey, if you're happy, I'm happy for you.'"
"I was like, 'Cheadle went Hollywood,'" she added. 
Don replied, "Yeah, I mean, that's understandable given that we've been together 28 years before we got married. I hold you blameless."
Don and Bridgid started knockin' boots in 1993.
They share two daughters, 26-year-old Ayana and 24-year-old Imani.
Many fans lambasted their nuptials via Twitter, claiming Don took too long.
One user wrote, "Bruh… after 28 years you got married? GOD DAMN that woman is patient!"
Another added, "Why would you have to secretly marry somebody you been with for 28 years?"
Watch Don's chinwag with Wanda.
Share your thoughts.