Japanese man married a doll.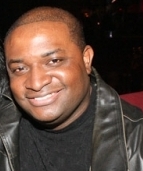 Blog King, Mass Appeal
JAPAN — Akihiko Kondo, a Japanese school administrator, made history when he became the first man to marry a doll. The non compos simp said "I do" to a diminutive knockoff of virtual reality singer Hatsune Miku. An estimated 40 guests attended the ceremony and watched Kondo, 35, and his toy bride exchange vows and wedding bands before celebrating their nuptials with a kiss. But Kondo's mom declined the conjugal invitation and none of his relatives showed up. They were obviously pissed.
Keep in mind, Hatsune ain't your average soulmate. She's equipped with a furry vulva, she's acquiescent, she's a virgin, and she won't backtalk her hubby. When asked why he chose to marry a f*cking doll, Kondo said it was a matter of life and death. "To me, Hatsune Miku is not just a character I love," he explained.
"She's a person who saved my life."
Awww.
When asked why she chose to marry Kondo, Hatsune didn't say a word.
She's a little shy.
Are you happy for the newlyweds?
Is there a doll in your connubial future?
Are women being replaced with toys and trannies?
Watch the beautiful ceremony.
Share your thoughts.