Japanese robot showcases skill.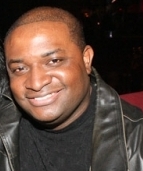 Blog King, Mass Appeal
TOKYO — During halftime of France's upset victory over the United States, a Japanese robot stole the show when he sauntered midcourt and took three shots — a free throw, a 3-pointer and a half-court heave — in succession and didn't miss. He was swish! Automatic. The crowd was stunned. The 7-foot humanoid is equipped with Kawhi Leonard-sized hands and he takes longer to shoot than Giannis Antetokounmpo. But we can't hate on Japanese officials for showcasing their proficiency in robotics.
After all, the Olympics provide the world's biggest stage.
"This project will not simply be about exhibiting robots, but showcasing their practical real-life deployment helping people," said Dr. Hirohisa Hirukawa, researcher at the National Institute of Advanced Industrial Science and Technology (AIST). The animatronic android, known as Cue3, lacks dribbling skill and I'm not sure he'll beat an old lady in a foot race. But it's still impressive as hell. Twitter reaction was priceless.
One user wrote, "I heard the Lakers are interested."
Another added, "Ben Simmons should learn from this Robot.😄😄😆😆"
Dr. Hirukawa said it'll be another 20 years before Cue3 can run and jump.
Will humanoids replace basketball players who refuse the vaccine?
Hell, should Team USA purchase one?
Watch the shocking video.
Share your thoughts.