Alfonso Ribeiro feeling rejected.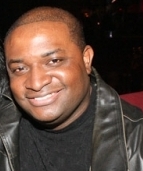 Blog King, Mass Appeal
ATLANTA — "Fresh Prince of Bel-Air" star Alfonso Ribeiro is married to a white chick and, for that reason, he believes he's being ostracized by the black community. The irony is Alfonso's dramatis personae — Carlton Banks — suffered a homogeneous kismet; mainly because he was a nerdy, privileged, sweater vest-wearing, Tom Jones-lovin' Republican. His 'Carlton Dance' has its own chapter in sitcom history. Alfonso, host of "America's Funniest Home Videos," got some sh*t off his chest during a chinwag with Atlanta Black Star. If you're frownin' upon his interracial marriage, he loves you anyway.
"I am in a mixed relationship and I get… [mean] looks and comments constantly," Alfonso said. "And I find it very interesting because you see a lot of things on social media where people say things and people have positions and perspectives. And it's not easy to make that choice, because you're not at home in any home. I'm never going to be white and I'm never going to be fully supported in the Black house. So I'm in my own little world with support from almost no one, to be in love with someone I've fallen in love with. How does that make sense? It doesn't."
"I will support any person that wants to live in a world that they want to live in," he continued. "I'll support a racist person to live in a world that they want to live in. They don't have to be around me. But if that's the world that they want to live in, they should have a right to live in that world. I live in a mixed world. I love in a mixed world. I live in a Black world, and I love in that world. I feel everyone should be supported."
Twitter reaction was merciless. One user wrote, "Imma need Alfonso Ribeiro to stop blaming his not being accepted into the black community on his white wife. He needs to come to terms with the fact that he's just trash on his own merits. He's been shucking and jiving for white folk his whole career."
Another added, "At least Carlton was a funny character, Alfonso Ribeiro on the other hand can be intolerable and ignorant."
Alfonso, 49, and Angela Unkrich got hitched 9 years ago.
They share 3 mulatto children: Alfonso Lincoln Ribeiro Jr., Ava Sue Ribeiro and Anders Reyn Ribeiro.
Do you feel sorry for Alfonso?
Does society have a problem with interracial relationships?
Share your thoughts.