Biz Markie given special farewell.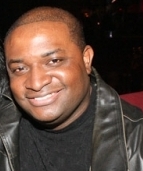 Blog King, Mass Appeal
LONG ISLAND — Family, friends and lachrymose fans got together Monday morning to bid a final farewell to Biz Markie (né Marcel Theo Hall) who died July 16th from diabetes. He was 57. The "Just A Friend" rapper received a star-studded sepulture in his hometown of Patchogue — a village in Long Island, New York. Reverend Al Sharpton delivered the panegyric. LL Cool J, Busta Rhymes, Treach of "Naughty by Nature," Kid Capri, Montell Jordan and Fat Joe were among the many rap confrères in attendance.
Everyone remembers Biz as being a jovial lyricist blessed with comedic proclivity. "When he came into the room he shifted the atmosphere," recalled Bishop Lamor Whitehead. "It's just a sad day that, you know, that we lost a good brother," bemoaned rapper Doitall Dupré Kelly. "I mean, a real good brother."
Treach said Biz's dissonant vocals altered the landscape of hip-hop music.
"You could do your own style," he once told the rapper.
"You could sing off key."
Kid Capri said, "There's never going to be another Biz Markie." Montell Jordan, who now serves as a pastor, echoed a similar sentiment. He's confident he hasn't seen the last of Biz. "That's my greatest joy about today – even with the loss that I know it's a gain because I get to see him again," Montell said.
Biz is survived by his wife, Tara Davis.
He didn't have any children.
Watch Biz Markie's "Celebration of Life" — long or short version.
Share your thoughts.