Crocodile Donnie rescues employee.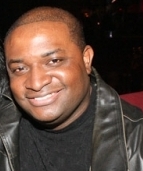 Blog King, Mass Appeal
SALT LAKE CITY — Crocodile Dundee, eat your heart out! Now we have Crocodile Donnie! A Utah resident named Donnie Wiseman was hailed a hero over the weekend after he foiled an alligator's attempt to maim a zoo employee. The valiant deed transpired Saturday afternoon in front of children at Scales and Tails petting zoo in West Valley City. It was also captured on video. Cell phone footage shows staff member Lindsay Bull feeding an 8-foot alligator when he suddenly bit her hand and pulled her into the water. That's when Crocodile Donnie dived in and wrestled the semiaquatic reptile off of her.
Another customer also got involved.
Lindsay underwent surgery on her hand.
She's expected to make a full recovery.
"I can't explain the level of admiration I have for that man [who helped save me]," Lindsay wrote on Facebook. Company officials also released a statement. "These gentleman could have stayed in the safety zone as most of us would," they wrote on Facebook. "But instead [they] jumped into the situation, of their own volition, and helped secure the alligator. Their help, combined with the training of our staff member, probably saved her life and her limbs."
Many of the kids in attendance were there for a birthday party, including Donnie's child.
I'm sure they enjoyed the show.
Watch Crocodile Donnie kick some ass.
Share your thoughts.