'Martin' actress Tichina Arnold divorcing cheating hubby after 9 years of marriage
Tichina Arnold calling it quits.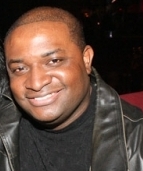 Blog King, Mass Appeal
SACRAMENTO — Coronavirus, DAMN YOU!!! You can stick a fork in Tichina Arnold's stormy marriage because it's done. The "Neighborhood" star and her husband, Sacramento Kings assistant coach DaRico Hines, are calling it quits after nine years of holy matrimony. Tichina, who made a name for herself on the '90s TV sitcom "Martin," filed dissolution indentures last week citing irreconcilable differences. The decision to sunder is hardly a surprise. If you recall, the quondam lovebirds got separated in 2016 after Tichina learned Rico made a sex tape with his paramour and didn't use a condom. He also gave Tichina an STD.
"I had that feeling of, you know, beyond him being my husband, this is supposed to be my friend, my confidant," Tichina told People Magazine. "Somebody who I can trust. And when you can't trust the person that you sleep with every night, there's a problem. I could no longer trust him. I could no longer lay with him. And it doesn't make him a horrible person. We all make mistakes, but not with me and not on my time and not in my life."
Tichina and Rico, 43, got hitched in Honolulu, Hawaii. They don't have any kids together. But the 52-year-old actress asked the judge to occlude alimony. Tichina's co-star on "Martin," Tisha Campbell, divorced her husband 3 years ago. So there's conjugal cessation in the air. Did an age gap hurt Tichina's marriage?
Is she better off without Rico?
Share your thoughts.