Kardashian Curse: Fact or Fiction?
Devin expects to break the curse.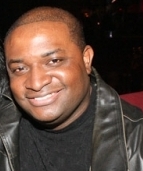 Blog King, Mass Appeal
NEW YORK — Phoenix Suns All-Star Devin Booker is lookin' to become the first to break the "Kardashian Curse." The myth goes anyone who dates a Kardashian or Jenner will experience bad luck. Devin, 24, and Kendall Jenner, 25, were spotted sippin' on some sizzurp Wednesday night at her star-studded "818 Tequila" event in the Hamptons. Kendall threw the soirée to promote her 818 Tequila brand. A tipsy Devin played the role of supportive boyfriend. The Hamptons fête came on the heels of Tuesday's romantic Lake Tahoe boat trip. So you can tell they're enjoying each other's company.
"They are really similar and love just being low-key and staying in and laughing together," an insider told E! News. "They are a solid couple with no drama. It's been all positive and Kendall loves being with him."
It's been one helluva summer for Devin. First, he led the Suns to the NBA Finals. Then he won a gold medal with Team USA at the Tokyo Olympics. Kendall even celebrated Devin's triumph by donning his gold medal at the lake. As for the legendary "Kardashian Curse?" Kendall said their exes are culpable.
"What I don't like about this narrative is that the blame is on us. I think the men need to take that responsibility," the reality TV star told Bravo's Andy Cohen. "I think that we're all extremely giving and caring and loving women. And, when there is a man in our lives we like, we give everything to them and as a family, we all love them so much. It's almost offensive, personally."
Can't blame Kendall for being offended. But there's no denying the following African American ballers have fallen victim to the Kardashian Curse: Reggie Bush, Blake Griffin, Kris Humphries, Lamar Odom, James Harden, Jordan Clarkson, Ben Simmons and Tristan Thompson.
And those are just the athletes.
If you included rappers, nincompoops like Ray J, French Montana and Kanye West would make the list.
Will Devin be next?
Should he run for the hills before his luck runs out?
Share your thoughts.