Security guard jailed for thwacking a 7th-grader
Security guard punched a child.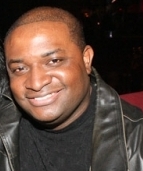 Blog King, Mass Appeal
MIAMI — This week's "I F*cked Up A Good Job Award" belongs to 40-year-old security guard Antwan Ruffin who was fired for punching a 7th grade student. The assault went down Thursday at Horace Mann Middle School in Miami, Florida. It was also captured on video. Instagram Live footage shows Ruffin, who stands 6-foot-7, cussin' out the 11-year-old in the hallway in front of other students. "Let me tell you something. This hallway, I run," Ruffin yelled. "When that bell ring, you in my hallway!" After the kid fanned his own countenance to imply Ruffin had bad breath, their contretemps took a turn for the worse. The little boy vowed to sic his family members on Ruffin who retaliated by thwacking him in the torso. "I'm going to the office," the little boy said. "Go! I'll walk you to the office," Ruffin replied.
Police officers showed up moments later.
Ruffin was arrested and charged with child abuse.
Watch the disturbing video.
Share your thoughts.