R. Kelly found guilty sex trafficking, racketeering
R. Kelly is guilty, facing hard time.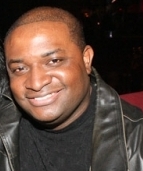 Blog King, Mass Appeal
NEW YORK — His attorney told him "no." But a dozen jurors told him "yes." R. Kelly is about to do some hard time. That's because a New York jury (comprised of 7 men and 5 women) found his ass guilty of racketeering and sex trafficking on Monday. Kelly, 54, was convicted on all 9 counts — a significant victory for the Me Too movement. Now he's facing life in prison. Fifty witnesses took the stand during the 5-week trial. One of 'em said Kelly forced her to ingest a bowl of feces. Another claimed she walked in and caught the "Bump N' Grind" singer bangin' R&B songstress Aaliyah who was only 13 at the time. If you recall, Kelly married the "Back & Forth" vocalist on August 31, 1994 when he was 27 and she was 15. But he had their marriage license doctored to show Aaliyah's age as 18. Monday's verdict comes 13 years after Kelly (né Robert Sylvester Kelly) was acquitted of child pornography charges in Illinois.
Do you agree with the conviction?
Should Kelly spend the rest of his life behind bars?
Share your thoughts.